It's that time again where we announce the winners of our latest contest! The theme for this contest was Christmas and so we put it to you guys to create whatever you wanted, whether it was a picture, song, story or poem. So here I am to show the entries and announce the winners:
Fyrebane's entry 1!
Fyrebane's entry 2!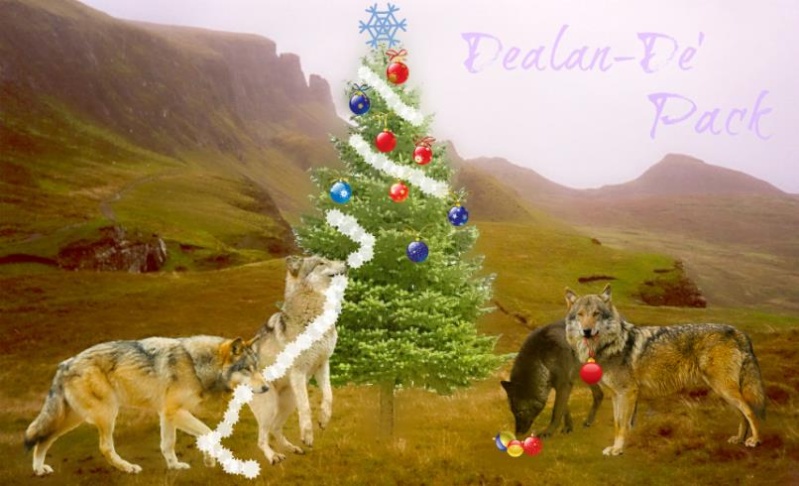 Solmn's Entry!
Spoiler:

The names in this story are here with the approval of the owners of these wolves*

When snow finally arrived in the land Solmn and ginger loved at first because both young pups had a thrill chasing after snowflakes and getting all dirty through the day. Some of the older wolves where concern because they did not seem to want to stay inside the den. Finally when it was time to get inside both pups went in reluctantly with a bit of pouting, when they had their meal and got clean afterwards both started to feel slumber overtaking them. In fact the cute little orange furball which is Ginger fell asleep during her bath. While Solmn being older and a boy to boot tried to fight it off thinking it was mature wolves did. Meanwhile Tic look on with amusement at Solmn knowing full well how his friend is. "Come on little wolf you and Orange had a busy day, Tic promises that when you wake up Little wolf will see a surprise." Hearing the word from his friend Tic Solmn began to relax when his cleaning was done he gave a grateful lick to the adult and went to lay beside Ginger. "I hope you are right Tic because i like surprises." After saying that he gave a yawn then wrap his tail around himself and Ginger and entered the land of sleep.

During the night Solmn woke up and found the den empty, at first he was scared of being alone again but he saw Ginger at the entrance of the den. As he got up and went to her Solmn thought it weird that she did not have a scent. "Ginger do you know where everyone is?" Without turning her head towards him she replied. "No Solmn I do not, but something tells me we should go outside the den." The little black pup look at his small orange friend whom he loved a lot then nodded to her. "I feel it to Ginger but you know if we leave the den the Alpha's will scold us, but I will go if you go." With that both young pups went out just following that strange pull each felt. As they walked through the forest their paws feeling the soft but cold snow they eventually came to a clearing where a big two leg creature was trying to comfort a small two leg. Solmn and Ginger hid behind a tree and watched being curious but also very cautious. After a while of just looking the big man look to where they were and said. "Come Solmn and Ginger both of you are needed." At those words both pups moved forward like they were hypnotize or something. As they got closer they heard the small two leg sniffling but when she caught sight of the young pups she rush to them and pick them up. Solmn normally would have squirmed or try to get away but somehow he lick the young girl's cheek while Ginger did the same. The two legged child giggled and turn to the big man. "They like me Santa, can I keep them?" Santa shook his head. "No Sara you can't like you they have parents who love them and soon they must return to them." The young girl pouted but smiled and laugh getting a double dose of being licked. "Ok guess like me they would miss their parents, but can I hold them for a bit and pet them both are so soft specially the one with three tails." Both pups like the feeling that they felt when Sara petted them it felt different then when they were being cleaned but it felt good. In time Sara fell asleep and Santa carefully set both pups down then covered the sleeping child with a warm fur blanket.

"Thank you my young friends both of you brought pleasure to this human child. It has been a long time since wolf pups aided me but know this the pack which you belong to will thrive." It seem odd that while Solmn and Ginger could not understand when Sara spoke they understood Santa clearly. Both pups wag their tails in happiness at receiving this high praise. Solmn looked where the little two leg slept. "What will become of her? There is no two legs around here?" Santa smiled at him. "Like you Solmn she lost her parents she tried to find them but got lost. I will take her to her den where she can be safe." At hearing the word den Ginger started to whimper because she like Solmn was starting to miss the comfort and safety of their den. Santa knowing how the two young pups felt petted them gently. "Do not fear because I believe he will take you back." At his word Tic came strolling toward them. "Orange, Little wolf come Tic will take you back. Do you want to ride the choo choo express?" Without waiting to see if both pups said yes Tic put them on his back and started to go back saying Choo Choo along the way. As they got to the edge of the clearing all three wolves heard the sound of bells and a strange big thing being pulled by eight reindeers. "Merry Christmas De~Delan Pack and Ulfr Mani pack." A voice echoed throughout the land.

As both pups rode on Tic's back both fell asleep, the next day Solmn and Ginger told their dream to the pack. Even though most are patient with the pups some laughed at them or called them silly puppies. As the day was becoming night both Ginger and Solmn felt sad that they were treated like this after telling the truth. For some reason they did not see Tic that day till before it was time to sleep. Tic came slowly to them and gave them both a piece of antler to chew on. "Tic got that from big two leg we saw in dream, see Tic promised a surprise Solmn." Both pups were so happy that finally a big wolf believed them that they jump on him and licked him senseless.

After Leaving the wolves Santa brought Sara to her adoption agency where the next day she was adopted by loving parents. That alone would have made the little girl happy but what was the icing on the cake she receive two stuff wolves from build a bear one that is orange and has three tails, while the other was black and had blue eyes. What is even weirder she named the orange one Ginger and the black one Solmn.
---
All of the entries were amazing as you can tell, but we decided the winner of our first christmas contest iiiiiiissss...........[insert drumroll here]
FYREBANE!! With entry 1!
We really loved all entries from everyone, but this entry really caught mine and Jo's eye. It's well done and looks beautiful, so congratulations to Fry! You've earned yourself 20 points!
And for having such a great entry, Solmn, you get 10 points as well!